A hundred year of history
Florimont was founded in 1905 by the Missionaries of St. Francis de Sales. It is a catholic school that has been governed by lay people since 1995, working closely with the religious order that still owns the school and ensures that the major guidelines are followed.
Institut Florimont is a private catholic school open to all religions. We offer education from kindergarten through to entry to university. More than 70 nationalities are represented.
Since 2006, a major renovation project has been underway on campus to ensure that our school community benefits from the most up to date resources and a 21st century learning environment.
Florimont aims to ensure that every child achieves his or her full potential. In the words of Saint Francis de Sales­: "We must not settle for good when we could achieve better".
08.10.1905 : Florimont founded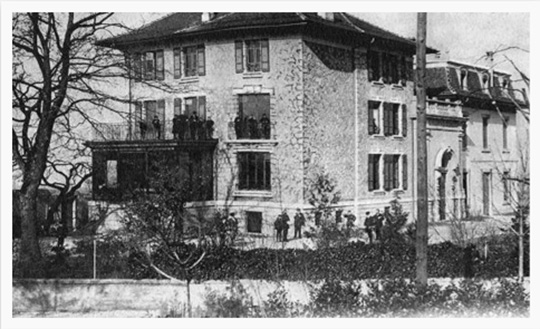 1920 : Former Pupils Association founded and the school's blazon adopted.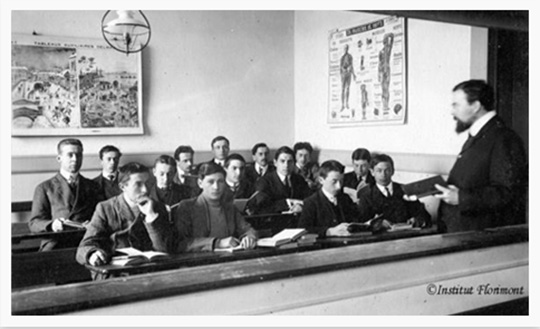 1942 : Introduction of preparation for the federal Maturité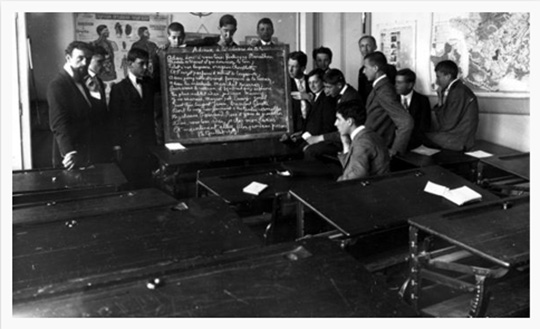 1955 : New primary school building opened
Knowledge is priceless.
The Florimont archives are ideally situated in the basement of the nursery school building. They have no special monetary worth but their value lies in the knowledge contained in the unique books and documents.
They include the personal archives of the Missionaries, who dedicated their lives to educating the children entrusted to them as well as to the propagation of the Catholic faith and Salesian spirituality in Switzerland, France and especially in India. A number of former pupils and teachers at Florimont have left their mark, by their outstanding actions in war or by the fame they achieved in the arts, science or literature.
One case in point is Father Luis Favre, a supervisor at Florimont then a teacher at Ville-la-Grand, who was shot by the Nazis for having saved many people by helping them to cross the French-Swiss border; or Father Basile Luyet, a former science teacher at Florimont and the father of cryobiology; or the painter and writer Constant Rey-Millet, one of the most important Savoyard painters of the XXth century, who painted his first watercolours at Florimont. We want our current pupils and teachers to learn about these unique destinies so that they benefit from the experiences, the advances, the acts of courage and the actions that these former members of Florimont carried out during their lives. This is one way of perpetuating the tradition of the Académie FlorimontaIne created by François de Sales in 1607 and so the aim was to offer a site for similar intellectual activity, open to all spheres of knowledge.
It was in organising the various exhibitions linked to the 100th anniversary of our school that the initial research was begun on the objects and old photographs and it was also when Florimont discovered a number of priceless archives.
The fathers had an important library and also a museum that was rather like a cabinet of curios.
The items remaining from this collection have gradually been found and certain of the most important pieces are currently in a display case in the chapel. Among them can be seen the Papal Bull by Pio X, a letters patent from Charles-Albert of Savoy, some beautiful reliquaries and a XVlth century missal with lovely illuminations.
Some very important photographic archives have also been found and we have undertaken to have some of them valued.
Pupils and staff can view the archives on Wednesdays from 9 am to 12,30pm. For more information, please contact Mme. Lorenzeni at: klorenzini@florimont.ch or by telephone at 076 370 13 83.