Lunches at Florimont
School lunches are provided by the catering firm Novae, with five cooks working under the supervision of the chef M. Christopher Benatier.
The team guarantees the highest standards of hygiene and prepares about 1,400 meals a day. All the dishes are planned with advice from a dietician who ensures they are balanced nutritionally and meet the 'fourchette vert' label. A vegetarian option is also available every day.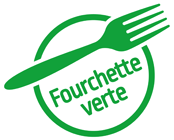 A standard menu consists of:
Protein-rich items
A choice of protein-rich items: meat, chicken, fish, shellfish, eggs, tofu, cheese, vegetables. Fish is on the menu twice a week.
Vegetables or pieces of fruit
A choice of one or two vegetables or pieces of fruit: a salad of raw vegetables, cooked vegetables, fruit and cooked fruit, soup.
Starchy food
A choice of starchy food: potatoes, pasta, rice, corn, couscous, lentils, chick peas, other cereals and bread, preferably both wholegrain.
Dessert
A choice of dessert: usually fruit or cooked fruit or a dairy-based dessert.
Drink
Water is served with the meal.
Novae and Florimont
Novae and Florimont give preference to items that are in season, fresh, environmentally friendly, locally sourced and organic.
Their traceability is also very important. The products used come mainly from Geneva (with the label Genève Région Terre Avenir), from Switzerland or, by default, from the EU (saltwater fish, for example). The cleaning products are also environmentally friendly and carry the appropriate label (Fleur de l'UE).
Florimont is not able to provide meals for particular dietary requirements and cannot guarantee that meals are free of allergens. Children with special dietary requirements are asked to bring their lunches, which can be reheated in our kitchen.