A key aspect of Florimont's mission is to ensure that pupils understand the role of the sciences and enjoy the rigor that their study provides.
We live in a highly technologically world in which the sciences play a prime role. "Educating young people capable of finding their way in the world" is the aim of science education.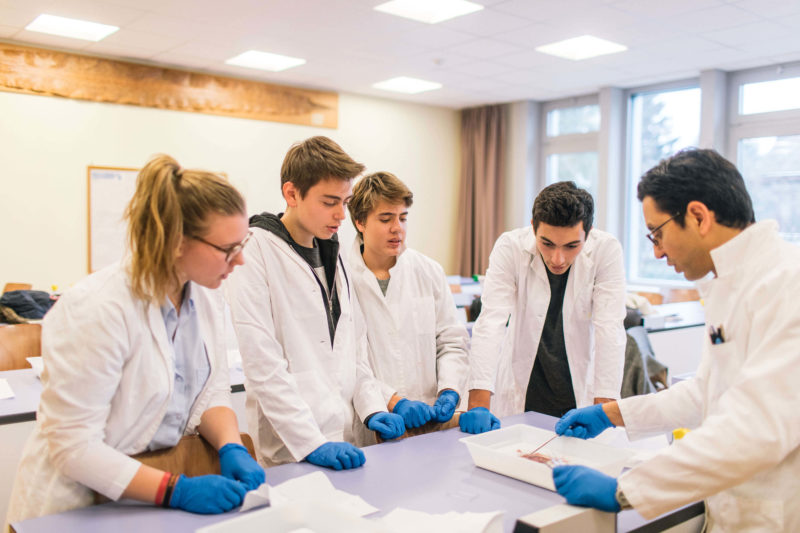 Experimentation
Science is discovered and appreciated first and foremost through experimentation, the reason why practical work is central to our curriculum.
Every week from the start of the cycle to the end of the upper secondary level, pupils work in small groups to study scientific methods: asking themselves questions, formulating hypotheses, documenting, observing, experimenting, modelling; analysing and interpreting results; drawing conclusions as to the validity of the hypotheses formulated.
Our excellent facilities provide laboratories for each subject, cutting edge teaching materials, a classroom equipped for computer-assisted experiments, multidisciplinary projects, and work on digital technology and robotics.
Optional Courses 
For pupils who want to specialise in mathematics and science, we offer the optional course MathScience.
This option is specific to our school and offers our pupils the opportunity to engage in experimental work in mathematics and science through practical activities.
This is available from the end of 6th grade and is aimed at extending pupils' scientific knowledge and skills, for which there are many opportunities at Florimont.
STEAM club
It offers students activities allowing them to deepen and diversify their scientific, artistic and technological culture.